AhaView is a handy jpg converter and viewer. It allows you to browse, view, organize and convert your jpg and jpeg-2000 images.

With AhaView you can:
Browse jpg and jpeg-2000 images in the thumbnail mode
View jpg and jpeg-2000 images in the full-screen mode
Convert jpg and jpeg-2000 images to BMP, PNG, GIF formats
Convert your BMP, PNG, GIF files to JPG
Attach descriptions to jpeg files
Show a sequence of images as a slide show
Explore image properties
Copy images to the clipboard
Copy, move, duplicate and rename files
Use command line interface
Supported formats: Convertion support: icon to gif, bmp to gif, jpeg to gif, gif to bmp, ani to gif, tga to gif, tiff to gif, psd to gif, xbmp to gif, xpm to gif, wbmp to gif, wmf to gif, jp2 to gif, pbm to gif

System requirements: Windows 95/98/ME/2000/NT/XP/2003/Vista/7/8/10, 32 MB RAM, Pentium-133 MHz, 2 MB Hard Disk.

Trial limitations: 30-day trial period, nag screen.

Download:
exe
zip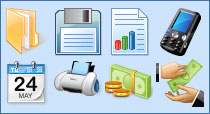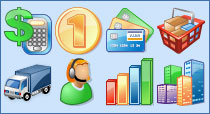 IconLover
is our pick. It allows you to design and edit all kinds of graphics required in the software development cycle, including icons, static and animated cursors and interface elements - all these graphics can now be designed in a single application.
Business Icon Set
will make your software and web products look more modern and attractive. File formats included into the set are Windows icons, GIF and PNG images.
ArtIcons Pro
is an advanced icon-specific utility for Windows. It supports ICO, BMP, PNG, GIF, PSD, XPM, XBM, WBMP, CUR and ANI image formats and allows you to manage icon libraries.
ArtCursors
allows you to find, create, edit, import and export cursors and manage cursor libraries. It supports static and animated cursors.
Any to Icon
converts icons and cursors into BMP, JPG, PNG, GIF, ICO, CUR and other formats. This wizard can find icons and make images for use on Web pages.