About TGA format: Truevision Advanced Raster Graphics Adapter (TARGA) - Format by Truevision, Inc, used to support image capturing and game textures; used with a series of high-resolution graphics adaptors released under the TARGA name.

The Targa TGA format was developed by Truevision for their Targa and Vista products.

The TGA format file is widely used by high-end paint programs and ray tracing packages. It can handle images with up to sixteen million unique colors. It is an industry standard but is not as widely supported as PCX or TIFF formats. The TGA format was designed for use on systems that use MS-DOS color applications.

TGA files may be saved compressed (run length encoded) or not compressed. Since Windows does not recognize 16 & 32 bits per pixel, some applications will treat them as 24 bits per pixel. A 16 bits per pixel image will be up-graded to 24 bits per pixel, and a 32 bits per pixel image will be down-graded to a 24 bits per pixel image. This procedure will not affect the image since the 8 extra bits of a TGA 32 bits per pixel file are used to store Alpha or transparency information.

Characteristics:
TGA format supports 8, 16, 24, 32 bits per pixel - not compressed.
TGA format supports 8, 16, 24, 32 bits per pixel - RLE compression.


AhaView is a handy tga viewer and converter. It allows you to browse, view, organize and convert your tga images.

With AhaView you can:
Browse .tga and other images in the thumbnail mode
View Targa images (tga) in the full-screen mode
View palettised .TGA with Alpha channel
Convert your .TGA images to BMP, PNG, JPEG, GIF formats
Attach descriptions to tga files
Show a sequence of tga images as a slide show
Explore image properties
Copy images to the clipboard
Copy, move, duplicate and rename files
Use command line interface
Supported formats: System requirements: Windows 95/98/ME/2000/NT/XP/2003/Vista/7/8/10, 32 MB RAM, Pentium-133 MHz, 2 MB Hard Disk.

Trial limitations: 30-day trial period, nag screen.

Download:
exe
zip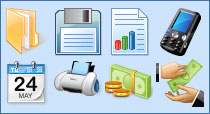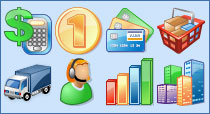 IconLover
is our pick. It allows you to design and edit all kinds of graphics required in the software development cycle, including icons, static and animated cursors and interface elements - all these graphics can now be designed in a single application.
Business Icon Set
will make your software and web products look more modern and attractive. File formats included into the set are Windows icons, GIF and PNG images.
ArtIcons Pro
is an advanced icon-specific utility for Windows. It supports ICO, BMP, PNG, GIF, PSD, XPM, XBM, WBMP, CUR and ANI image formats and allows you to manage icon libraries.
ArtCursors
allows you to find, create, edit, import and export cursors and manage cursor libraries. It supports static and animated cursors.
Any to Icon
converts icons and cursors into BMP, JPG, PNG, GIF, ICO, CUR and other formats. This wizard can find icons and make images for use on Web pages.