---
Valid product name is ArtIcons, not Art Icons
ArtIcons is an icon editor for Windows. It helps to draw small images, edit favicons, find pictograms, modify Windows icons, create pictures.
---
Enhance Your Projects by Using Design Icons
Much of the look and feel of an application or a website depends on the icons that you have to help users navigate through the interface. Using design icons can enhance the appearance and usability of your projects.

Although many software and web developers underestimate the importance of icons, this is a very bad idea and one of the most common mistakes in software and web design. Using design icons is a great way to enhance not only the look and feel of your projects, but also to make them more user-friendly. Design icons can be used to enhance just about any website or application by conveying a unique artistic message to the user. It will help to set your projects apart from those of your competitors. Using design icons, you can enjoy enhancing your projects in a unique and rewarding way. Finding the right sort of icons for your projects, however, can be difficult. This is why Perfect Design Icons can come in extremely handy. It provides a wide range of icons for different uses in a wide variety of formats and sizes to suit your individual needs.

Any application should use high quality icons to enhance their interfaces. They are also often used on websites to make them easier to navigate. Designing icons yourself or having someone do it for you can get expensive and very time consuming. Small graphics artists often spend many hours just to design a single icon and it will also cost you a great deal of money to acquire the icons you need in this way. It will take a long time and a lot of money to get all of the icons you need. Fortunately, there are ready-designed icon packs out there which you can start using immediately.

Perfect Design Icons comprises a selection of 258 icons to suit a wide variety of different purposes. Ideal for creative professionals, software and website developers, these icons are versatile and high in quality. The icons are offered in a variety of resolutions ranging from 16x16 to 48x48. They are also available in different formats in addition to the standard Windows ICO format. Other formats provided include GIF, BMP and PNG. All formats are provided in 32-bit True Color.

Purchasing and downloading a premade set of design icons is a great way for developers to save money and time on making their projects. You can also enjoy the consistently reliable quality that you need. As you won't need to design the icons yourself, you will also not need to worry about encountering the common pitfalls of icon design. Instead, you can take advantage of purchasing a fully-prepared and ready-to-use icon set for the modest price of $129.95. Once you have purchased them, they will be available for you to start using immediately. This way, you can quickly provide your websites and applications with the professional interfaces that they need.

There is also a demonstration version available which is obtainable from the product website at http://www.perfect-icons.com/stock-icons/perfect-design-icons.htm. There are icons available for many different niches, so you should be able to find exactly what you need for your specific purposes. Find out more at the website above and enjoy your very own pack of design icons today!


---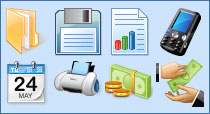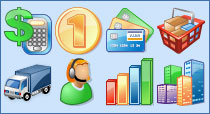 IconLover
is our pick. It allows you to design and edit all kinds of graphics required in the software development cycle, including icons, static and animated cursors and interface elements - all these graphics can now be designed in a single application.
Business Icon Set
will make your software and web products look more modern and attractive. File formats included into the set are Windows icons, GIF and PNG images.
ArtIcons Pro
is an advanced icon-specific utility for Windows. It supports ICO, BMP, PNG, GIF, PSD, XPM, XBM, WBMP, CUR and ANI image formats and allows you to manage icon libraries.
ArtCursors
allows you to find, create, edit, import and export cursors and manage cursor libraries. It supports static and animated cursors.
Any to Icon
converts icons and cursors into BMP, JPG, PNG, GIF, ICO, CUR and other formats. This wizard can find icons and make images for use on Web pages.