---
Valid product name is ArtIcons, not ArtIcon
---
Putting to use download icon editor and icon edit
The software compatible with Windows 7. Coming across a download icon editor that is competent is not an easy thing at all.

There will be virtually no limit to the icons that you will be able to create with more than 40 effects and a wealth of tools at your finger tips. One of the advantages with this sort of software is that you can be able to convert all your favorite images into icons.

When you download an icon editor that is effective, you get the capability to change icons that are inside exe files and also you can easily manage to create icon libraries as you wish. Some of the main features that such a software is bound to posses include the ability to support Macintosh OS X icons, the ability to support Vista icon with PNG compression, ability to multiply language support, resolution up to 256x256, more than 40 effects+ custom filter, import and export images, ability to extract icons from 32 bit exe and d11, brighten, transparent, blur, darken, sharpen tools etc. In short it is right to say that such software is like a one stop shop where by you are bound to find anything that you might need. If you are the type of person who is in icon creating business, then download icon editor might just be the type of software that you have been looking for.

If you happen to be someone who loves creating icons and turning your favorite images into icons then this is also the editor that you need. As you continue to convert and create icons, you might reach a point where you have to re-do your work then you have to go for special software that is capable of editing and re-doing the work. To get an icon edit software is not an expensive affair since they are found through out the internet. For as little as $20 you can be able to download effective software which is capable of serving you or a long period of time.

Some of the main features that such a software is supposed to have include the fact that they are easy to use, they have a capability to search for icon in your files, 256x256 Windows 7 icon support, multiple undo and redo, capture screen areas, various image filters, buddy icons etc. If you have a young site that you have developed and you want to keep it running so as to maintain the traffic then you need to pump in more icons and incase you have icons that need to be redone, then you do not have to worry because icon edit is the convenient software for you.


---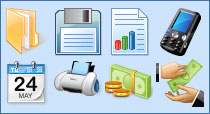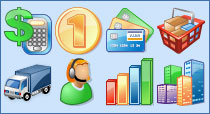 IconLover
is our pick. It allows you to design and edit all kinds of graphics required in the software development cycle, including icons, static and animated cursors and interface elements - all these graphics can now be designed in a single application.
Business Icon Set
will make your software and web products look more modern and attractive. File formats included into the set are Windows icons, GIF and PNG images.
ArtIcons Pro
is an advanced icon-specific utility for Windows. It supports ICO, BMP, PNG, GIF, PSD, XPM, XBM, WBMP, CUR and ANI image formats and allows you to manage icon libraries.
ArtCursors
allows you to find, create, edit, import and export cursors and manage cursor libraries. It supports static and animated cursors.
Any to Icon
converts icons and cursors into BMP, JPG, PNG, GIF, ICO, CUR and other formats. This wizard can find icons and make images for use on Web pages.