---
Free Game Icons are a free icon collection for web designers and game developers. If you are creating an educational game for young children, a fantasy RPG or a space quest, this icon set will provide you with all the nesessery images, such as door, Lock. Tree, Bell, Abacus, Dice, Diamond, etx. The icons are available in sizes 32x32, 48x48 and 64x64 pixels, in True Color with semi-transparency alpha channel color format. They are available for instant free download in form of an archive which contains PNG files with a transparent background.

This fabulous icon set is available for instant free download!

Default license: Linkware (Backlink to http://www.aha-soft.com required)
Commercial usage: Allowed


Download Free Game Icons


$link="http://www.aha-soft.com/downloads/free-game-icons.zip"; include_once "../../php/showform.php"; ?>
Download Free Game Icons
---
Icons Packs - Eyes Catching Collection for User!
It is never an easy task to design the toolbar icons, small graphics. However, now you can solve the task easily by choose or download the eyes catching collection of the Icons Packs. These Icons Packs have designed by the software experts in web PNG files to improve the performance of any website or desktop programs. Now, you can easily get these sorts of Icons Packs designs for your desktop through the online. There are other benefits that you can get by choosing the Icons Packs such as:
You can get your desire Icons Packs image quickly after your selection
You can find more than two thousand in the 125 group of the Icons Packs and all the image or formats are available in the different unique size and shape
Icons Packs are available in number of shape and style according to the requirement.
Icons Packs are available in various style that including with Windows XP, Mac style, and Windows Vista.
The modern computers will store terabytes of information and number of the folders where you keep all files increases, you find yourself to be exhausted from necessary folder among plenty of others. Even neat design of folder icons will not help while there are a lot of Windows folders. How we keep the navigation as fine as possible? Answer is simple: follow intuitive visual way with Folder Icons. It is biggest & most diverse folder icon packs and there has been with the icons of the impeccable quality. Now the well planned hierarchy, all along with the fitting folder names is not an only method to give you good navigation -you can change folder icon of folder that you use for more tangible results.

In case, you come thinking of it, giving a lot of freedom it does, lacks an essential assortment of the directory icons. In standard case, you need to look for necessary icons all across disc, whereas with Folder Icons you can find them in a place for each possible event and it is fairly convenient. The folder becomes very unique when you change the folder icon with Folder Icons, so that makes very simple to find your favorite folders and thanks to the new eye catching & stylish appearance. Folder Icons has biggest option of folders you may find on Web, and it continues grow fast as you may never have a lot of the lovely folders.


---
Custom icon design
at affordable prices for developers and designers.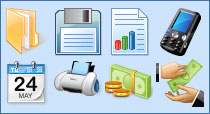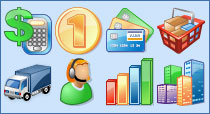 IconLover
is our pick. It allows you to design and edit all kinds of graphics required in the software development cycle, including icons, static and animated cursors and interface elements - all these graphics can now be designed in a single application.
Business Icon Set
will make your software and web products look more modern and attractive. File formats included into the set are Windows icons, GIF and PNG images.
ArtIcons Pro
is an advanced icon-specific utility for Windows. It supports ICO, BMP, PNG, GIF, PSD, XPM, XBM, WBMP, CUR and ANI image formats and allows you to manage icon libraries.
ArtCursors
allows you to find, create, edit, import and export cursors and manage cursor libraries. It supports static and animated cursors.
Any to Icon
converts icons and cursors into BMP, JPG, PNG, GIF, ICO, CUR and other formats. This wizard can find icons and make images for use on Web pages.