View awards ArtIcons has received
ArtIcons has been reviewed and listed in the Graphics category, subcategory Icon tools.
ArtIcons allows you to find, extract, create, edit, import and export icons and manage icon libraries. You can create and edit icons with image formats in either standard or custom sizes, with color depths up to 32-bit true color. Paint tools include color replacer, color selector, spray can, pencil, brush, flood fill...

ZDNet gave its ZDNet Editors' Pick and 5 Stars Rating to ArtIcons 2.1. ZDNet's reviewer said: "ArtIcons is a world-class tool for working with icons, both by themselves and in space-saving library form. Use its good-looking, tabbed interface to create and manage multiple icons and icon libraries simultaneously. All of the basic icon-editing tools and then some are..."
WebAttack Editor's Pick "Aha-Soft ArtIcons has been awarded our Editor's Pick Gold. Only a small percentage of the products receive this award."
ArtIcons rated with 5 cows (highest rating) on TuCows!
TuCows's reviewer said: "ArtIcons is -- as you probably guessed -- an icon editor. Its design and is strictly for this purpose. It has tons of little..."
SoftMag's editor said: "ArtIcons got 6 out of 6 and that's the best. It was very easy to use, fast startup, many tools etc. We have tested some Icon programs before, but this one is the best Icon program we ever have tested. Very good!"
ArtIcons rated with 5 Dudes (highest rating) on FileDudes!
Citation from FileDudes's "Rating guide": Programs that receive a 5 Dude rating are programs that do exactly as they're intended to do. They provide advanced features not found on similar products, are easy to use, have an attractive graphical user interface. These are must downloads.
ArtIcons rated with 5 stars (highest rating) on Paul's Picks Shareware!
ArtIcons rated with 5 stars (highest rating) on SoftList!

ArtIcons has received a rating of 5 stars from FileHungry!

ArtIcons has been awarded a 4 star rating at A1 Yippee Shareware.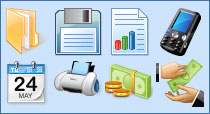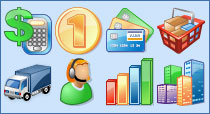 IconLover
is our pick. It allows you to design and edit all kinds of graphics required in the software development cycle, including icons, static and animated cursors and interface elements - all these graphics can now be designed in a single application.
Business Icon Set
will make your software and web products look more modern and attractive. File formats included into the set are Windows icons, GIF and PNG images.
ArtIcons Pro
is an advanced icon-specific utility for Windows. It supports ICO, BMP, PNG, GIF, PSD, XPM, XBM, WBMP, CUR and ANI image formats and allows you to manage icon libraries.
ArtCursors
allows you to find, create, edit, import and export cursors and manage cursor libraries. It supports static and animated cursors.
Any to Icon
converts icons and cursors into BMP, JPG, PNG, GIF, ICO, CUR and other formats. This wizard can find icons and make images for use on Web pages.